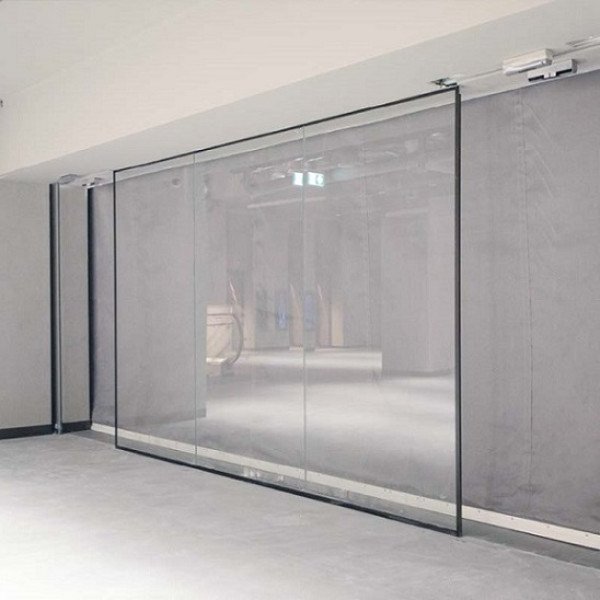 Fire Curtains prevent the spreading of Fire from one zone to another during Fire Scenario. NAFFCO curtain comprises of flexible heat resistant fabric with fire integrity up to 240mins.*. The tube contains a DC electric motor which holds the curtain retracted at ceiling level at all times and deploys upon the receipt of fire alarm signal. The bottom bar ensures safe and controlled descent of the curtain with gravity fail safe.
System tested to
EN 1634-1

UL10D

UL10D S

UL1784

BS476 part 6 & 7**
Product Complies
*NF-WRGF0667/120
**Fabric tested.
APPLICATIONS
Elevator and Elevator Lobbies
Elevator shafts are the common conduits for the spread of fire and smoke which can enshroud the entire building in a short period. Even though elevator doors are fire rated, they do not provide a smoke seal. Fire curtains with smoke seals can be used in this scenario to contain the smoke from spreading into the lobby.
Escalators and staircases
Both escalators and staircases are breaches between floors and can be an easy means for the spread of fire and smoke throughout the building. Using NAFFCO's fire and smoke curtain, the spread can be controlled and directed to provide easy escape for the occupants.
Corridors and Escape routes
Fire curtains and smoke curtains are easily retractable which allows for quick and effective evacuation during emergency situations. Our curtains come with various means of egress* that allow for safe evacuation once deployed in the fire scenario.
Compartmentation
Preventing the spread of fire and smoke from one zone to another is a crucial element of fire compartmentation strategy. NAFFCO's fire and smoke curtains respectively work as a physical barrier and help to contain the spread of the fire and smoke throughout the building.
Back