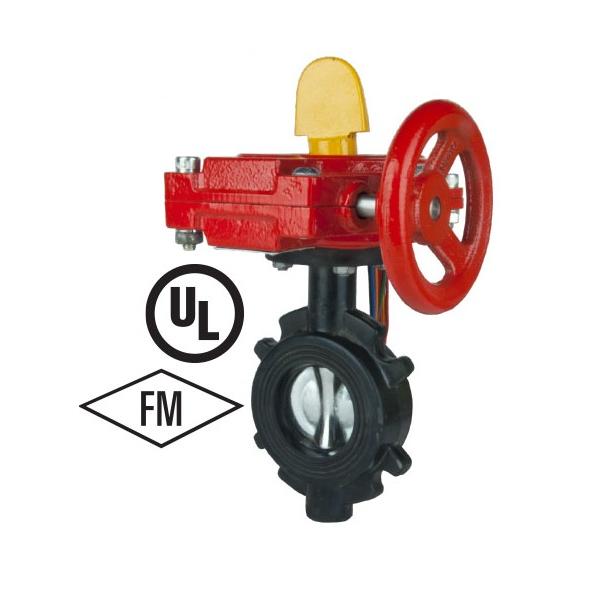 BUTTERFLY VALVE (with tamper supervisory switch)
MODEL: SDBV-W, SDBV-W300 & SDBV-WTEC-175/200/250/300
A butterfly valve is a rotary valve (quarter turn valve) using a disc as the closure member. Butterfly valves can be either symmetric or eccentric (=offset), the latter referring to the stem being displaced from the center of the disc. SHIELD butterfly valves covers concentric, double eccentric and triple eccentric designs.
SHIELD butterfly valves are available in wafer style (no flanges), lugged (single flange) and double-flanged body types. This along with comparably short face-to-face dimensions makes them versatile and cost-efficient solutions for a variety of on/off and control applications. Extreme tightness performance makes the butterfly valves optimal for tight shut-off on/off applications and their inherent modified equal percentage flow characteristic makes them an excellent solution for a control valve.
Supervisory switch butterfly valves are produced for separating the zones and act like control valves. In fire protection systems, valves have to be monitored. They are provided with a hand wheel mounted on the shaft that communicates with the gear box for positioning. This way, users can have information about automation systems and improved equipment in order to see easily on the valve body. It is suitable for use indoors or outdoors.
Advantages: Compared with other valves, this type of valves takes less area.
According to NFPA, A listed indicating gate or butterfly valve shall be installed on the fire protection system side of the pump discharge check valve. Where pumps are installed in series, a butterfly valve shall not be installed between pumps. Where the hose valve header is located outside or at a distance from the pump and there is a danger of freezing, a listed indicating butterfly or gate valve and drain valve or ball drip shall be located in the pipeline to the hose valve header. Where a backflow preventer with butterfly control valves is installed in the suction pipe, the backflow preventer is required to be at least 50 ft (15.2 m) from the pump suction flange (as measured along the route of pipe) in accordance with clause 4.14.5.2.
MODEL: SDBV-W
| | |
| --- | --- |
| SIZE | 2 ½" through 8" |
| WORKING PRESSURE | 175 psi |
| MAX. TEST PRESSURE | 350 psi |
| WORKING TEMPERATURE | 250° F (120° C) |
MODEL: SDBV-W300
| | |
| --- | --- |
| SIZE | 2 ½" through 8" |
| WORKING PRESSURE | 300 psi (21.5 Bar) |
| MAX. TEST PRESSURE | 600 psi (43 Bar) |
| WORKING TEMPERATURE | 250° F (120° C) |
MODEL: SDBV-WTEC-175/200/250/300
DESIGN STANDARD

MSS SP-67

CONNECTION ENDS

ASME B16.1 CL 125,
ASME B16.5 CL 150

TOP FLANGE STANDARD

ISO 5211 Stem drive by keys, parallel or diagonal square or flat head

WITH INTEGRATED TAMPER SWITCH

Yes

WORKING PRESSURE

175 PSI / 200 PSI / 250 PSI / 300 PSI

TEMPERATURE RANGE

0ºC – 80ºC

COATING

Fusion Bonded Epoxy Coating in accordance with ANSI/AWWA C550
Back